Flat roof verandahs
Stylish and great value flat roof verandahs and pergolas
Building a flat roof or skillion roof verandah or patio is the most economical way to achieve shade and weather protection for your home. Our strong all colour steel frames provide clean lines with a minimal amount of posts, this allows for wide spans and larger uncluttered outdoor entertaining areas. High gloss steel roofing with a flat deck like appearance is available in a range of colours and roof light panels can be incorporated to add natural light.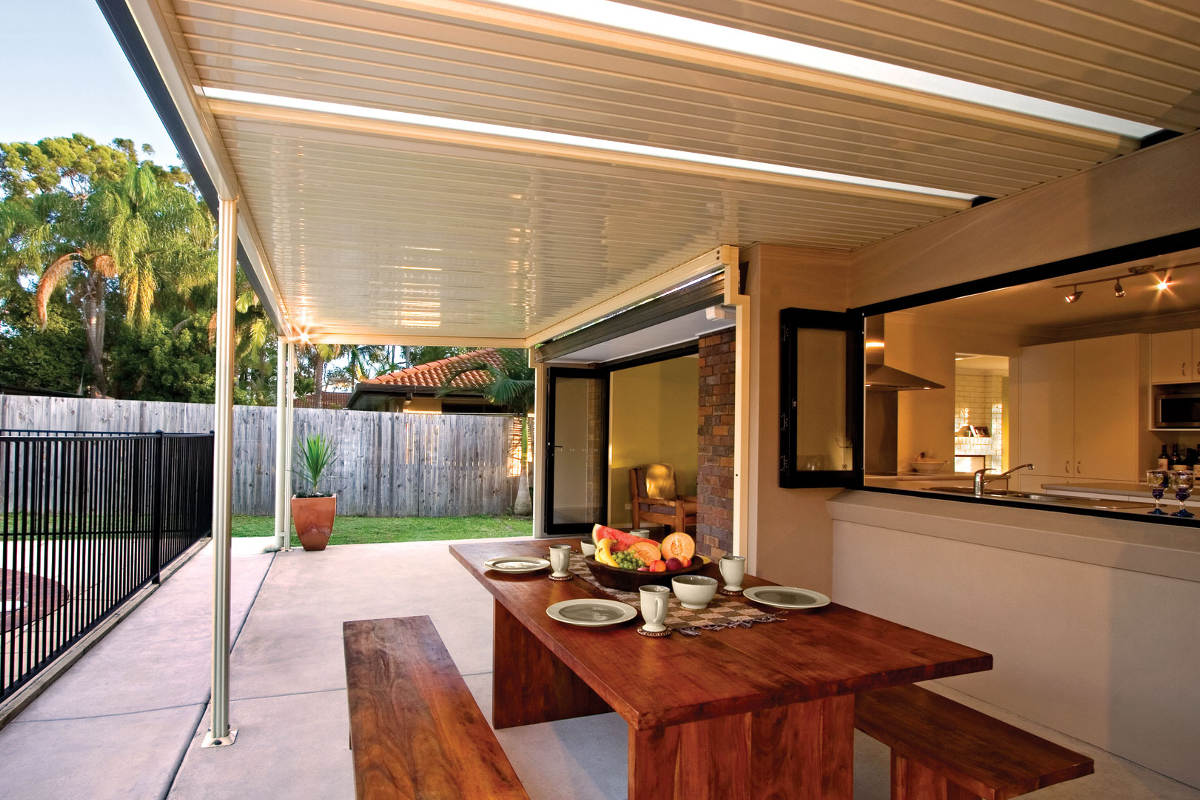 Flat verandah design options
Design options include attached and free standing variations and if you have a tapered boundary or angled paved area we can design your verandah to accommodate the space.
For homes with low eave heights or to create a feeling of space we have riser and roof brackets available. They allow us to raise the height of your verandah above the eave and gutter line at the house side providing extra height and improved ventilation.
We can even build your flat roof verandah with a reverse rake. By incorporating a box gutter and pitching the verandah back to your house we can create a modern contemporary style.
Fully engineered for wide verandah spans
The high strength roof deck sheets allow for spans up to 4.5m without an internal beam and up to 9.0m with internal beams. And the width is only limited by the space you have available. High strength steel allow for wide column spacings up to 8.4m. All wind categories are catered for and we'll take care of plans and council approval if required.
Book a verandah quote today
Call us today to arrange an in home design and quote. We'll visit your home and discuss your requirements and tailor a verandah design to suit your home and budget. We take care of plans, council approvals, installation and site clean up.
Phone 1300 559 110, we build verandahs throughout Adelaide metro, Adelaide Hills, Barossa Valley, Gawler, Victor Harbor and surrounds.